In most cases, car accident claims are settled prior to going to trial. However, if you and your insurance company cannot agree on a fair settlement for your claim, or if you cannot determine who was at fault for the accident, you will need representation from an experienced personal injury law firm.
The California car accident lawyers at Lehr Law, APC work tirelessly to fight for fair compensation, allowing you to focus on healing and getting back to your normal life.
What To Do After A Car Accident In California
Car accidents happen in a split second, leaving most drivers caught off guard and unsure as to how to proceed after an accident. Our California car accident lawyers have prepared a post-car accident checklist, in order to help car accident victims effectively navigate these situations.
1. Remain Calm & Get To Safety
Immediately after a car accident, it is important to remain calm, check yourself and any passengers you may have for injuries, and stay on the scene. If all parties involved are able to move their vehicles to a safe location without causing further injury, engage your vehicle's emergency lights, and move to the side of the road.
2. Call 911 & Report The Accident
Involving the police is a critical step in this process, as the police will officially document the incident and take statements from all parties involved.
3. Exchange & Document Important Information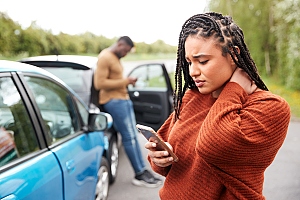 Once a car accident occurs, it's important to gather as much information and evidence as possible. Your insurance provider will use this to determine what is a fair settlement for your claim. Here is a list of information you should exchange with the operator of the other vehicle(s):
First & last names
Phone numbers
Car insurance information (provider & policy number)
In addition, it is important to gather as much evidence and information as possible from the scene of the crash for your own case. Below is a list of information and evidence you should gather:
Date & time of incident
Location of incident
Type, color & model of vehicle(s) involved
Driver's license information & license plate number(s) of parties involved
Pictures of your vehicle and of the accident scene
Officers information that were at the scene
Speak to witnesses & collect their contact information
Obtain a copy of the police report
4. Stick To The Facts & Do Not Admit Fault
In the heat of the moment, it can be easy to accidentally admit fault, even if you are not. Any statement officially stated in the police report can be used by insurance companies to determine who was at fault for the car accident. When providing the law enforcement officer your statement, stick to the facts of the incident and do not provide information that would be considered subjective (i.e. information unable to be proven by evidence/witness testimony).
5. Get Evaluated By A Medical Professional In A Timely Manner
Even if you are not showing signs of physical trauma, it is important to have a medical professional perform an examination immediately following a car accident. There are a variety of reasons why you may not feel pain or discomfort right away (i.e. adrenaline, stress, etc.), and symptoms could arise after the incident. Obtaining an official medical report can prove to insurance agencies that current or future medical ailments were directly caused by the car accident. Compensation correlated to injuries stemming from the incident most certainly can be achieved, as long as the injuries do not exceed California's statute of limitations.
6. Reach Out To An Experienced California Car Accident Lawyer
Working with an experienced California car accident lawyer can make a substantial difference in total compensation received, lawsuit duration and overall stress around the incident. Here at Lehr Law, APC, we have years of experience working tirelessly with clients to get them the compensation they deserve.
What Are The Car Accident Statute Of Limitations In California?
According to the California Code of Civil Procedure Section 340, the statute of limitations for filing a lawsuit for a car accident in California is two years from the date of the incident.
Are There Exceptions To California's Statute Of Limitations For Car Accidents?
Below are a list of factors and situations that can alter the two-year time frame for filing a lawsuit:
Seeking compensation for property related damages/losses

Limitation change: Three years

Injuries to children under the age of 18

Limitation change: Two years starting after the age of 18

Wrongful death

Limitation change: Two years from date of death

Inability to reach defendant (out of country/state, incarcerated or deemed mentally insane

Limitation change: Two years from ability to reach defendant

Defendant is a government entity

Limitation change: 6 months. If a claim is denied, 1-year limitation from date of claim denial

Defendant files for bankruptcy

Limitation change: Claims remain valid until completion of bankruptcy proceedings
When To Hire An Lawyer After A Car Accident
The insurance company is always looking out for their best interest, not yours. It is vital that you have a legal advocate on your side to fight for proper compensation after a car accident. Don't talk to the insurance company. Instead, contact an experienced personal injury lawyer who can help navigate you through the litigation process to ensure you are getting a fair deal.
Work With The Experienced Auto Accident Attorneys At Lehr Law, APC
Accidents happen, but it does not mean that you should have to suffer because of someone else's mistake. Get in touch with the highly experienced car accident lawyers at Lehr Law, APC today to begin the journey to getting your life back to normal by calling (858) 240-9993 or by requesting a consultation online.