Both federal and California employment discrimination laws protect employees from workplace discrimination. Any unfair or unequal treatment relying on specific characteristics is discrimination.
Our San Diego employment discrimination lawyers are experienced and skilled in probing, researching, negotiating, and litigation claims.
Unlawful discrimination means employers sack, demote or mistreat employees due to their medical conditions, race, gender, age, or other personal characteristics covered under the law.
At Lehr Law, we have a team of experienced California workplace discrimination lawyers representing workers across industries and niches who have experienced unlawful workplace dissemination.
Types Of Illegal Discrimination
California workplace discrimination laws protect various personal characteristics. Here are a few common unlawful workplace discrimination claims that our San Diego attorneys defended:
Age Discrimination
Under California workplace discrimination laws, discriminating against workers due to their age is illegal. Employees aged 40 or above have protection against unlawful treatment or firing solely because of age.
Disability Discrimination
Besides age, discrimination based on an employee's mental or physical disability is illegal in California. No matter the disability – long term or short term – employers can't discriminate against workers.
In fact, an employer has to offer good benefits and accommodation to disabled workers and interact amicably to know their accommodation needs.
Pregnancy And Gender Discrimination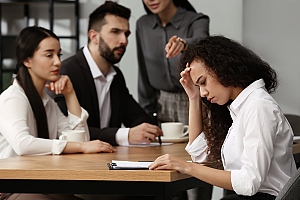 Employees are protected from unfair treatment in the workplace due to their sex or gender. In addition to that, employers can't discriminate due to any medical conditions related to childbirth or other pregnancy complications.
Race Discrimination
If you're experiencing racial discrimination at your workplace, you can sue your employer for damages as discriminating against workers due to their national origin, ancestry, color, or race is illegal in California state.
Some other characteristics guarded by law include sexual orientation, genetic information, marital status, gender identity, and religion.
Workplace Discrimination Checklist
To have a solid, legal claim, employees must demonstrate their employers discriminated against them. They need to prove negative actions taken by employers were based on discrimination.
Here are a few negative actions to have a legal claim:
Demotion
Sacking or wrongful termination
Constructive dismissal
Failure to recruit
Denied advancement or promotion
Unfair job role or transfer
Pay cut or benefits reduction
Potential Damages
Relief and damages vary from claim to claim and are based on discriminatory actions and their effects on victims.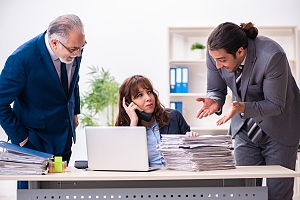 For instance, if an employer hasn't picked an employee for promotion due to discrimination, they can claim job placement, lost benefits, wages, etc.
Here's a list of remedies you can get from your employer if you were unlawfully discriminated against:
Economic damages
Emotional suffering and pain damages
Punitive damages and more
Contact San Diego, California Workplace Discrimination Lawyers Today!
We offer the necessary expertise and skill to help employees litigate and resolve various labor and workplace disputes and discrimination. No matter the issue, we can protect your legal rights under the law, including rights against unlawful workplace discrimination. Reach out to Lehr Law today at (858) 240-9993 or request a consultation online to hold your bosses accountable for wrongful termination, misclassification, hostile workplace, hour/wage claims, etc.