Slip and fall accidents can cause severe injuries, head trauma, lasting pain, and even disabilities. Property owners have a duty to make their home or business safe and free from conditions that could cause a trip, slip, or fall.
If you have suffered an injury due to a slip and fall in California, reach out to a proven California slip and fall lawyer.
What To Do After A Slip & Fall Accident
Slip and fall cases can be extremely complicated. You should not try to navigate a slip and fall case on your own. Insurance companies will often try to downplay your injuries, and will fight you for compensation. It is crucial that you call a slip and fall attorney right away.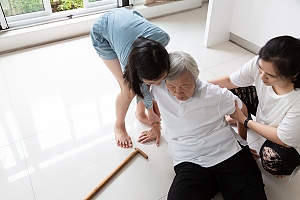 After a slip and fall, it is helpful to gather the appropriate information. If you are involved in a slip and fall or trip and fall accident, do the following:
If possible, obtain a report of the accident
Get the names and phone numbers of any witnesses
Take pictures of the area where the incident occurred as soon as possible
Call an experienced slip and fall lawyer
How Can I Prove Negligence?
Every case is different, but to be successful in a personal injury slip and fall case, you must prove that the property owner was negligent. This means you will have to prove that the owner of the property knew about a potentially dangerous problem and failed to address it.
That can be a difficult task. That is why it is crucial that you speak with an experienced slip and fall lawyer as soon as you can. They can begin to gather the right information and take action on your case.
Start Building Your Case With Experienced California Slip & Fall Lawyers
Because the fault during a slip and fall case is usually unclear, it's important to hire a slip and fall lawyer to help you through the process. Our experienced California slip and fall lawyers can help you prove all of the repercussions that may have come from the slip and fall. Reach out to Lehr Law, APC today by calling (858) 240-9993 or by requesting a consultation online.