Getting into a car accident can be a traumatic experience in and of itself. But what happens if the at-fault driver does not have insurance to help pay for the injuries and damages that severely impact your life afterward?
This is where a California uninsured motorist lawyer can help you out.
What Is Uninsured Motorist Coverage?
Uninsured motorist coverage is a part of your car insurance coverage that will pay for any medical bills or car repairs you might have if you get into an accident with a driver who is not insured. Usually, if you're in an accident and the other driver is at fault, their liability insurance would help pay for any expenses. However, if they don't have insurance, you could be forced to pay for those expenses out of your own pocket.
When Should I Make An Uninsured Motorist Claim?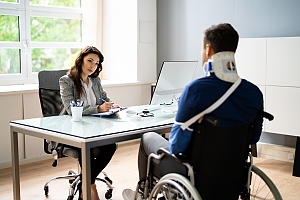 If you're in a car accident and you have reason to believe that the at-fault driver has no insurance, you need to notify your insurance provider as soon as possible. Some car insurance policies have strict deadlines when it comes to filing an uninsured motorist claim, so it's important to act quickly. Usually, uninsured motorist claims progress in the same way as a regular auto accident claim, except that this claim is against your own insurance company.
Why Should I Work With A California Uninsured Motorist Lawyer?
It's important to note that the biggest difference between a regular auto accident case and an uninsured motorist case is that if you and the insurer cannot agree on a fair settlement, you cannot file a lawsuit against your insurer (unless the insurer is acting in bad faith). But because an uninsured motorist claim is against your own insurance provider, you will need an experienced California uninsured motorist lawyer to assist you. They can help ensure that you are getting compensated fairly.
Start Building Your Case With Lehr Law Today
How unfair is it that you pay your car insurance every month and then suddenly an uninsured driver hits you, and is unable to pay for the damages? At Lehr Law, our California uninsured motorist lawyers work tirelessly to right their wrong by getting you the compensation you most certainly deserve. Reach out today to start building your case by calling (858) 240-9993 or by requesting a consultation online.