Losing a job due to an employer's breach of employment contract can be financially and mentally damaging. Not receiving implied or promised benefits can hurt an employee adversely if they depend on them, or worse, lose a job.
Employment contracts are agreements between two parties, i.e., employer and employee, protected under the law. You can file suit for damages if an employer breaches that contract.
What's A Contract Of Employment?
Employment contracts are signed agreements between an employer and an employee. The contract sets up the responsibilities and rights of both parties, i.e., the company and an employee. In many cases, employers promise certain benefits to employees under the contract.
Pursuing a legal case based on an oral or implied contract is tough. However, written employment contracts can easily be enforced in a court of law and claim damages.
Breach Of Employment Contract Checklist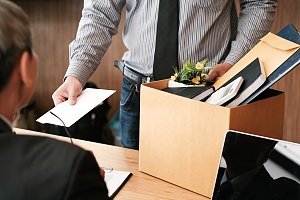 Your employer has violated the employment contract:
If they sacked you before a contract expires
If they're unable to deliver on their promises (both written or implied) as laid out in the employment contract
Often, employers seek an out-of-court settlement and are willing to negotiate severance agreements. Our experienced attorneys at Lehr Law, APC can guide you through the entire process to get a beneficial severance agreement.
You can claim damages if an employer doesn't offer a severance agreement. Although employment contract breaches are scarce, they can be easily proved and enforced in a court of law. Unlike written contracts, implied and oral contract breaches are common.
Potential Damages
When an employer breaches a contract, you can claim the following remedies:
Compensatory Damages
Punitive Damages
Liquidated Damages
Nominal Damages
Specific Performance
Restitution
Breach Of Implied Contract
An employee can sue their employer even if there's no written agreement. Enters implied contracts! Implied contracts are valid alternatives for both oral and written agreements; in many instances, they act as written employment contracts.
These contracts can either replace or add to the written agreements. Here are a few policies that may be included in an implied contract:
Fringe Benefits
Disciplinary Policies
Service Duration
Pay rate And More
California is an at-will employment state. It means employers can sack employees for whatever reasons barring discrimination, making it extremely difficult to claim damages for implied contract breaches.
These are the cases when you can rightfully sue for damages:
Wrongfully terminated
Ignored seniority principle
Unable to offer implied benefits
Discipline unduly
Choose Lehr Law, APC As Your Go-To Law Firm
Our skilled attorneys have extensive experience contesting breach of employment contract cases in San Diego and surrounding areas. We represent employees and protect their rights against wrongful termination or breach of contract. Our experienced lawyers protect employees from harassment (leading to termination), discrimination, retaliation, and demotion based on sexual orientation, color, sex, age, race, religion, mental or physical disability, or marital status. Contact Lehr Law today at (858) 240-9993 or request a consultation online.