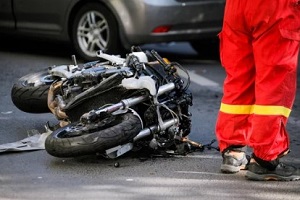 Los Angeles may be most famous for its movie studios and the Hollywood Walk of Fame, but the motorcycle rides in the city and surrounding areas are just as legendary. Unfortunately, the City of Angels is also known for its traffic, and motorcycle accidents are not uncommon. All it takes is one distracted or careless driver to cause an accident with life-changing ramifications.
Motorcycle accident injuries can be emotionally and physically devastating, leaving victims with pain and disabilities that can prevent them from carrying out daily tasks or working. If you are involved in a motorcycle accident, you must work with an experienced Los Angeles motorcycle accident attorney to seek compensation for your damages and injuries.
California Motorcycle Laws for Los Angeles Riders
California is generally considered a motorcycle-friendly state. Here are a few motorcycle-specific laws to be aware of while on the road in Los Angeles and the surrounding areas.
Lane Sharing and Splitting
Lane sharing, which occurs when two motorcycles ride side by side within one lane of traffic, is fully permitted in California.
Unlike many other states, California also allows lane splitting on state roadways, which takes place when a motorcyclist drives between two lanes of traffic to get around vehicles.
A few laws on the books protect riders when engaging in this practice. For example, motorists are not allowed to drive so slowly that they block the reasonable movement of traffic unless it is necessary for safety reasons. Likewise, motorists are not allowed to open their vehicle doors unless doing so will not interfere with traffic.
Passengers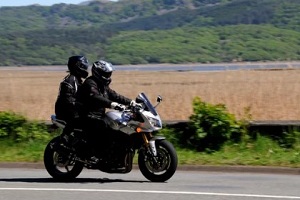 California law does not restrict the age of motorcycle passengers, but they do need to be at least four feet, nine inches in height, as this is the height at which a child is no longer required to use a car seat in a vehicle. They must also have footrests and use them the entire time the motorcycle is in motion.

Safety Equipment
All motorcycle drivers and riders must wear a helmet that complies with US Department of Transportation standards as they have been proven to reduce head injuries in motorcycle accidents. Protective apparel with reflective material is highly recommended but not required.
Motorcycles must have left and right mirrors and working turn signals on the front and back. Handlebars cannot be installed in a way that places the driver's hands at a height greater than six inches above their shoulders while they are seated.
Steps to Take Following a Los Angeles Motorcycle Accident
Motorcycle accidents have a greater likelihood of involving injuries than car accidents. If you are involved in a motorcycle accident in Los Angeles, here is what to do to ensure it is properly documented and facilitate the pursuit of damages where appropriate.
Report the Accident
Call 911 to ask for emergency medical assistance if you are injured. You should also call the police to report the accident. This record can prove useful as an unbiased form of documentation of what transpired.
Collect Evidence and Share Information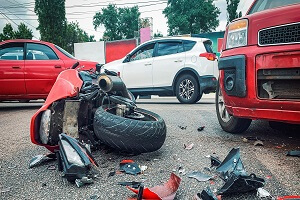 If you are physically able to do so, ask everyone involved in the accident, as well as witnesses, for their full names, phone numbers, and insurance provider and policy number.
You should also make a note of the date, time, and location of the accident. The make and model of the vehicles involved, and the license plates and driver's license information of all parties. Take multiple photos of the accident scene, your motorcycle, and the surrounding areas if possible. Pay particular attention to anything that may have contributed to the accident, such as road signs, road conditions, and hazards.
Contact an Experienced Los Angeles Motorcycle Accident Attorney
Dealing with the aftermath of a motorcycle accident is challenging, but you don't have to navigate it on your own. Our seasoned Los Angeles Motorcycle Accident Attorney is equipped with the knowledge and skills to fight for your rights. Get in touch today to take the first step towards a smoother path to recovery. Contact Lehr Law at (858) 240-9993 or using our online consultation request form.