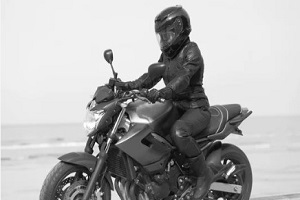 California's agreeable weather and beautiful scenery make transportation by motorcycle a popular choice in the state, whether it is for leisure or practical reasons. However, riders are at a disadvantage on the road, given the size of motorcycles relative to cars and trucks.
There are numerous considerations to keep in mind to reduce the risk of accidents, and California has enacted several laws aimed at ensuring the safety of riders in the state.
Helmet Laws
Like many states, it is illegal in California to ride a motorcycle without a helmet. The helmet rule also applies to any passengers on a motorcycle. Vehicle Code Section 27803 states that it is "unlawful to operate a motorcycle, motor-driven cycle, or motorized bicycle if the driver or any passenger is not wearing a safety helmet." The penalties for failing to wear a helmet on a motorcycle include fines of as much as $250 and up to a year of probation.
The helmet should meet the minimum requirements of the Department of Transportation's National Highway Traffic Safety Administration. The helmet should weigh roughly 3 pounds and have a chin strap attached with sturdy rivets. It must also feature a polystyrene foam liner with a thickness of roughly 1 inch, and it should not have any design features that protrude more than two tenths of an inch off the helmet's surface.
A DOT sticker is used to indicate helmets that meet these federal regulation standards, and riders are encouraged to ensure that their helmet features this sticker to help law enforcement determine the appropriateness of a helmet.
Moreover, California law requires motorcycle riders to have their helmet straps fastened and that the helmet securely fits their heads without permitting any lateral or vertical movement.
Lane Splitting and Sharing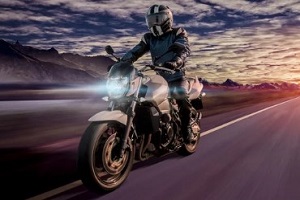 California is currently the only state in the nation where lane splitting is considered legal. This involves a motorcyclist moving in between two lanes of traffic that has stopped or slowed down considerably. Also known as "riding the white line," it is permitted as long as the traffic the motorcyclist travels through is moving significantly below the speed limit due to congestion or has come to a complete stop.
Moreover, it is illegal for other road users to block motorcyclists from lane splitting when the traffic has stopped or slowed. However, motorcyclists are not permitted to use the shoulder of a road for lane splitting. Lane sharing, when two motorcyclists ride side by side within the same traffic lane, is also permitted in California.
Motorcycle Passenger Laws in California
There is currently no minimum age requirement that applies to motorcycle passengers in California, but the law does specify that motorcycle passengers need to have their own seat and footrest and that their feet must be able to reach the foot rest.
In practice, this means that children may be motorcycle passengers if they have reached a height of 4 feet and 9 inches, which is the height at which a child is no longer required to use a child safety seat in California.
Insurance Requirements for California Motorcyclists
The state of California requires motorcyclists to carry insurance with specific minimums. This includes $15,000 in bodily injury liability coverage for a single injured person and a minimum of $30,000 in bodily injury liability coverage for total overall injuries, along with at least $5,000 of property damage liability coverage.
Motorcycle Permit Laws
A crucial aspect of motorcycle safety is demonstrating that you have undergone proper training to operate motorcycles and understand the rules of the road. California has enacted a motorcycle permit and license system to verify individuals' eligibility to operate motorcycles.
Motorcycle permit holders must be 15 ½ years or older, while full license holders must be at least 16 on the date they apply. Those under 21 must hold a learner's permit for at least six months before getting a motorcycle license.
All motorcycle license applicants must undergo the California motorcyclist safety program and pass a written permit exam and a vision exam. A permit is valid for six months, during which time riders may ride alone but cannot operate their motorcycle after dark or on a freeway. Before moving from a permit to a license, individuals must pass a skills examination. This test is usually carried out on a closed course in a DMV parking lot.
Other California Motorcycle Safety Laws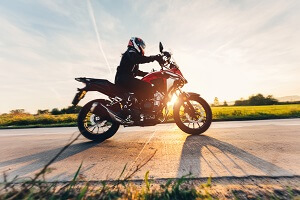 A motorcycle on any road in California must also have functioning turn signals on both the front and back of the motorcycle, along with mirrors and a muffler. In general, the motor vehicle laws that apply to cars also apply to motorcyclists, with the aforementioned lane splitting law one notable exception.
This means that motorcyclists are not permitted to operate motorcycles while they are intoxicated. They must adhere to the posted speed limits on every road and come to a full stop at every stop sign they encounter.
Contact the Experienced California Motorcycle Attorneys
Suppose you have been injured in a motorcycle accident. In that case, your focus should be on healing and getting back to normal, not worrying about paying your medical bills or arguing with insurance companies.
Reach out to the experienced motorcycle accident attorneys at Lehr Law, APC today to find out how we can help you protect your rights and recover compensation.