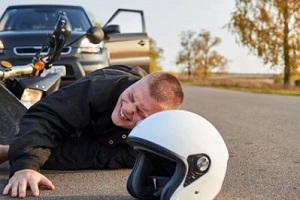 Thousands of motorcyclists are injured every day as a result of accidents on the road that could have been prevented. Although a faulty motorcycle part can sometimes be to blame, these accidents are often caused by other drivers on the road acting imprudently or failing to take reasonable care.
When a California motorcycle accident results in a lawsuit, it is necessary to determine who is liable for it. These lawsuits can sometimes be resolved through negotiations between lawyers and insurance adjusters.
The settlement will be based on how each side believes the court would assign fault according to the evidence. However, some cases will go to trial, where a judge or jury will determine who is liable.
How Is Liability Determined?
Some motorcycle accidents are very straightforward, with one party being clearly at fault. However, the injured party may often be responsible for at least a portion of the liability for the accident. For example, if the driver of a car does not yield the right of way to an oncoming motorcycle, they are chiefly at fault for the accident.
However, if the motorcyclist was speeding when the accident occurred, they could also be found partially to blame if their high rate of speed caused the accident to be more serious. Another party may be found negligent and therefore liable if factors such as excessive speed, running a red light, cell phone use, impaired driving or misjudging distances between cars were involved in the accident.
Comparative Fault In California
Determining fault in a motorcycle accident is crucial as the amount of compensation the plaintiff recovers depends on liability. In the state of California, a pure comparative negligence standard is used. This means that after the fault of each party has been determined, each party will be liable for their corresponding share of the damages.
Consider an example where a motorcyclist experiences a traumatic brain injury following an accident in which a vehicle made an illegal turn. In this case, the vehicle's driver is considered liable for the accident because their action caused it.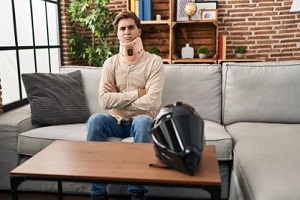 However, if the plaintiff was not wearing a helmet at the time of the accident, they may be assigned a portion of the fault for failing to take a step that could have reduced the severity of their head injury.
In this case, a jury might determine that the defendant (the vehicle's driver) bears 80% of the fault, while the plaintiff (the motorcycle rider) bears 20% of the fault. If the damages in the case total $100,000, the plaintiff would be responsible for $20,000, while the award they would receive from the vehicle's driver would be $80,000.
These cases can be very complicated, with defense lawyers and insurance representatives often taking steps to downplay their client's fault while magnifying the impact of the plaintiff's actions. It is a common defense tactic to blame an injured plaintiff in a motorcycle accident, even if this claim has no merit.
Therefore, those who have been injured in a motorcycle accident need an experienced personal injury attorney who can litigate motorcycle accidents effectively on their side.
Defective Parts
Another factor that can cause or contribute to a motorcycle accident is a defect related to the bike. For example, there could be defects in the motorcycle's design or problems that took place during manufacturing or assembly. Any type of defect in a motorcycle can raise the risk of serious accidents.
When a defective design is reported on a motorcycle, it will typically be recalled from the market. However, defects that occur during the assembly of an individual bike are more difficult to detect, whether they are the result of low-quality materials or operator error at the manufacturing company. These defects can lead to a malfunction that can result in an accident.
Although it may seem clear that the manufacturing company is at fault in such cases, multiple parties might technically be liable. Therefore, a complete investigation must be carried out to explore the circumstances that contributed to the accident.
Investigations Into Motorcycle Accident Liability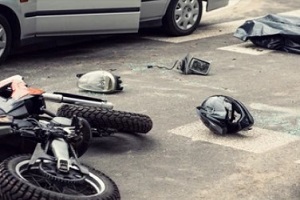 Investigations to determine liability in a motorcycle accident often include reviewing any surveillance video footage that is available, in addition to reviewing police reports and interviewing witnesses.
Investigators will also check recall lists to determine whether there were any defects in the motorcycle that the manufacturing company was aware of and whether they took steps to remedy them. An expert may also review the motorcycle.
Discuss Your Case With The Experienced Motorcycle Accident Attorneys
Suppose you have recently been involved in a motorcycle accident that you believe may have been caused by another driver or a defect in your motorcycle. In that case, it is essential to secure legal representation as soon as possible.
Lehr Law, APC is experienced in representing victims in these cases and helping them recover damages for their medical costs, disability, pain and suffering, and economic hardship. Contact us today to schedule a consultation.