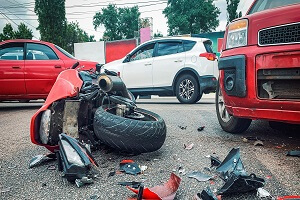 A no-contact motorcycle accident, also referred to as a phantom crash, occurs when a motorcyclist is forced to make severe maneuvers that result in an accident to avoid being involved in a much more serious collision.
For instance, when a driver merges directly into a motorcyclist's lane without providing any warning. If the motorcyclist can swerve out of the way in time, they may avoid being contacted by the vehicle and having a serious collision, but they could still lose control of their motorcycle and wreck it.
In this type of accident, the other vehicle's driver could be held liable for the injuries sustained by the motorcyclist and any resulting property damage. However, when there is no physical collision, it can be challenging to prove that another driver is at fault for an accident. Here is a look at the steps motorcyclists should take after being involved in this type of accident.
Call The Police Immediately
If you can do so, you must contact authorities immediately after the accident. If you were injured or your cell phone was misplaced in the collision, you can ask those nearby to call for help on your behalf. This is particularly important if the other driver involved has left the scene.
When the police arrive, provide them with a detailed account of what occurred. If the driver of the vehicle does stop to help, avoid getting into arguments or confrontations with them.
You should also avoid making any statement interpreted as an admission of fault, even if you suspect that your action may have contributed to the accident. Likewise, avoid apologizing, as this could later be construed as an admission of fault.
Collect Evidence
After being involved in a no-contact motorcycle accident, you will need to collect several pieces of important information and evidence. Ideally, you will have noted the other driver's license plate number so you can provide it to authorities.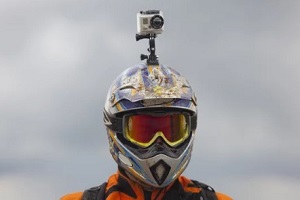 Prepared motorcyclists equip their bikes with specialized dash cameras or use helmet-mounted cameras to videotape all of their rides in case they need a visual record if another driver causes them to have an accident. These systems can supply crucial evidence that another driver is at fault. If you have this type of footage, keep it in a safe location and present it to your lawyer.
You will also need to take note of the conditions at the time of the accident, as these could influence your case. These include the presence of other vehicles as well as any debris on the road.
Note whether pedestrians were involved or nearby, as well as the existence of traffic signals and signs in the area. If the road was in poor condition or inclement weather at the time of the accident, be sure to note this as well.
Ask Witnesses For Statements
If anyone who witnessed the accident is still on the scene, request their contact information so your attorney can contact them as they build your case. If the accident occurred within view of any nearby businesses, ask if anyone inside saw what happened and would be able to confirm the other driver's actions led you to lose control of your bike.
Witnesses at the scene may be able to identify what caused the accident. Many no-contact motorcycle accidents are caused by abrupt lane changes in which the driver fails to use their turn signal. The bike may sometimes be in the car's blind spot. Either way, the motorcyclist, in this case, must swerve, lose control, crash into something or simply lay down their bike.
Suppose It is determined that the driver could have avoided the accident by being more conscientious about deciding whether it was safe to change lanes or if they failed to signal their intention to change lanes. In that case, they could be found negligent and liable for damages.
Find A Motorcycle Accident Attorney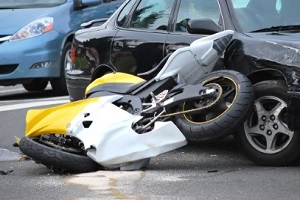 You will need to hire a personal injury attorney with experience dealing with motorcycle accidents to represent you and help you pursue the compensation you deserve for the accident. It can be very challenging to prove fault in motorcycle accidents that do not involve direct contact with another driver. However, an experienced motorcycle accident attorney will help you present your case in court.
Contact The Experienced Motorcycle Accident Attorneys
You should not have to suffer because someone else acted irresponsibly while driving. If you have been involved in a no-contact motorcycle accident that resulted in injuries, reach out to the experienced motorcycle accident attorneys at Lehr Law, APC today to find out how we can help you pursue proper compensation.