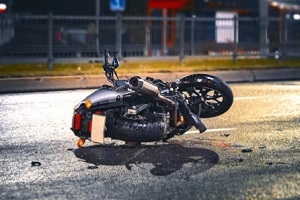 Motorcycle accidents are some of the most common road incidents, accounting for 14% of all accidents even though only 3% of vehicles are motorcycles according to the National Highway Traffic Administration (NHTSA). Once a motorcycle is involved in a collision, either with a pedestrian, property, or another vehicle, the biker is 28 times more likely to die as a result of the event than someone in a car.
Further complicating matters, a motorcyclist could be injured or even killed during an accident that was not originally their fault. Determining fault in a motorcycle accident is part of resolving the liabilities, and in California, the rules governing this process can be complex.
It is wise to seek legal help from a California motorcycle accident lawyer, whether you are the biker or someone impacted by the motorcycle. You should also learn more about fault calculations in these situations.
Here is information to get you started on how fault is determined in a California motorcycle accident, including the determination of liability and factors that impact settlement amounts.
How Is Fault Determined in a Motorcycle Accident in California?
The concept of someone being at "fault" in a motorcycle accident refers to the party who caused the accident. This could be the biker making an irresponsible or uninformed decision while operating their motorcycle, or another motorist could make a mistake and collide with the motorcycle. In California, more than one person can be found at fault for an accident, and this is determined via negligence.
Negligence means that someone did not perform their duties properly when operating a motor vehicle. Behavior from driving while intoxicated to failing to exercise reasonable care can qualify as negligent.
If multiple parties have been found to be at fault, California's comparative negligence rule will establish what percentage of the accident was attributable to their actions. Then, any compensation is reduced by this amount.
For example, if a motorcycle accelerates during a yellow light and turns left from a left turning lane and while crossing the intersection, a car begins to move on the green light and hits the biker from the side, the car may be assigned with 80% fault, because they should have been able to see the motorcyclist and waited until their path was clear to proceed.
However, the biker may be assigned 20% fault for accelerating through the yellow light as it turned red when they should have stopped instead. If the motorcyclist received a $100,000 settlement from the accident, $20,000 would be deducted to comply with the 20% fault calculation.
What Happens After an Accident
Once an accident has occurred and the proper insurance channels have been exercised as appropriate, one or both parties may receive compensation for the damage done to their vehicles or themselves, depending on their coverage. However, sometimes this amount is not sufficient to cover bills, or it is deemed unfair.
A party may elect to pursue legal action in the form of a personal injury claim. The parties may choose to settle on their own, or they can take the lawsuit to civil court. The court will then determine if an additional settlement is reasonable and, if so, how much it should be valued at.
Factors That Impact the Settlement
When the court determines the settlement value in a California motorcycle accident, they will consider the assigned fault as part of their calculations. Other factors that will impact the final settlement total include any medical bills, the cost of continuing care such as physical therapy, and the potential for lost opportunity and income.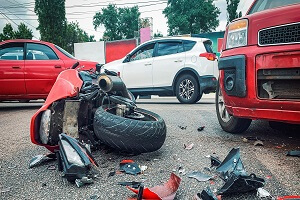 If the motorcyclist was not at fault and their motorcycle was destroyed, preventing them from having a method of going to work, they could lose their job. The court may determine that the settlement should include lost wages as part of their award to compensate them for this financial challenge.
While pain, suffering, and emotional damage are also viable elements for which to pursue compensation, these can be more difficult to prove and assign a monetary value to. This makes working with an experienced legal team critical after a motorcycle accident in California.
Get Help From a California Motorcycle Accident Lawyer
Motorcycle accidents can mean a long painful recovery, or worse, deadly. Receiving compensation after the incident begins with determining who is at fault. Those involved in a motorcycle accident in any form can benefit from the guidance of a professional legal team with a focus on auto injury in California.
The attorneys at Lehr Law take the time to learn your personal story so that we can best represent you. Contact our firm to schedule a consultation after your vehicle accident.