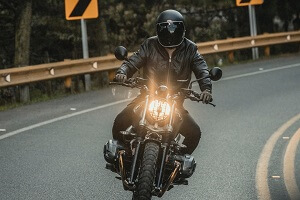 Los Angeles is the perfect city to explore on a motorcycle, whether you are enjoying an evening cruise on the Sunset Strip or a weekend cruise on the desert highway to head out of the city. It's essential to know the Los Angeles traffic laws while riding or you may end up receiving a ticket, or even get in an accident, and require a motorcycle accident attorney to represent you in court.
LA is a large metropolitan area that is subject to heavy traffic, and riders need to account for the constant presence of other drivers and know the California motorcycle laws. Here is a look at the rules of the road for Los Angeles motorcycle riders.
General Driving Laws in Los Angeles
Many of the laws that govern riding a motorcycle in California cities, such as Los Angeles, are the same as those for driving any other motor vehicle in the state.
Right of Way
The California Department of Motor Vehicles emphasizes the importance of following its right-of-way rules in preserving traffic safety. Many accidents that result in injuries in California stem from right-of-way violations.
California's right of way rules serve to help drivers understand who should go first any time vehicles, cyclists and pedestrians meet on a particular road. In general, the vehicle that arrives at the intersection first will have the right of way, but motorcycle drivers should never assume that others on the road will give them the right of way, even in cases where it is rightfully theirs.
At "T" intersections that do not have a stop or yield sign, those traveling on the through road and continuing straight are given the right of way. When entering traffic, the traffic that is already occupying the lanes being entered has the right of way.
When riding a motorcycle and meeting another vehicle on a steep or narrow road where neither vehicle can pass, the one that is facing uphill is given the right of way because the one facing downhill generally has more control when they back up the hill. The vehicle that is facing downhill must back up until the other vehicle is able to pass.
However, drivers should always give up their right of way if it will prevent a collision.
Speed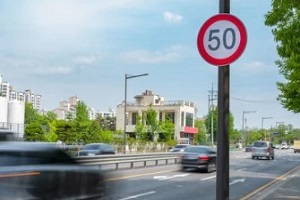 Adhering to the posted speed limits, which vary depending on the type of the road and its location, is essential for avoiding accidents. Most of the highways in Los Angeles have a maximum speed limit of 65 miles per hour, but some posted areas do permit driving at speeds of up to 70 miles per hour.
However, California's basic speed law states that drivers and motorcycle riders can never go faster than a speed that is considered safe for the current weather and road conditions, regardless of the speed limit that is posted.
Therefore, in situations where the road is rough, traffic is heavy or the weather is unfavorable, slowing down is imperative. This is even more important for motorcycles because they do not handle road hazards as smoothly as cars.
Lane Splitting
One motorcycle-specific road rule in effect in California is lane splitting. The Golden State was the first in the nation to formally legalize this practice, which allows motorcyclists to ride between two rows of vehicles that are stopped or moving. Right now, it is the only state in the country that permits the practice.
In California, motorcycle riders can legally ride on a dotted line between two lanes on any highway that has two or more lanes in which traffic is moving in the same direction. However, drivers must take their surroundings into consideration when doing so, including the width of the lanes as well the size of the vehicles that are surrounding them. In addition, motorcycle riders must be cognizant of the blind spots that other vehicles have and avoid lingering between vehicles.
Avoid these California Lane Splitting Mistakes
Motorcyclists are not allowed to ride on the shoulder of a freeway road because this is not considered traveling between two lanes. Moreover, sharing or splitting lanes next to large vehicles such as semi-trucks and motorhomes is not recommended. Lane splitting is also not allowed when there are dangerous weather, lighting or road conditions.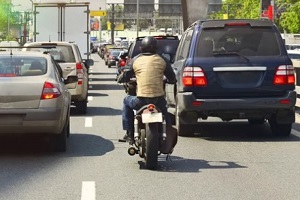 Motorcycle drivers should keep in mind that it is illegal for other drivers on the road to intentionally block or impede them in a way that could result in harm. Moreover, other drivers may not open a vehicle door to block motorcyclists. Any drivers who are traveling in the far left lane of the road should move to the left of the lane to give motorcycles sufficient room for passing.
Schedule a Consultation with the Los Angeles Motorcycle Accident Attorneys
If you have been injured in a motorcycle accident in California, the experienced attorneys at Lehr Law can help you pursue compensation for your injuries. Request a consultation online or call us at (858) 240-9993 today.