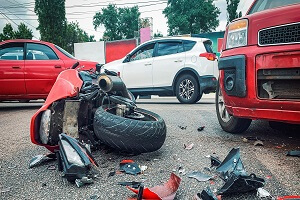 Being involved in a motorcycle accident is a stressful time. One or more parties may be injured, vehicles may be damaged, and even in minor fender benders, tensions rise. During this time, making wise decisions about how to proceed can be difficult, as those involved struggle to think clearly.
However, the choices you make at this critical juncture will impact the viability of a case to secure monetary damages from the other party or avoid liability. Speaking with a California motorcycle accident lawyer as soon as possible after the event is critical.
Until you do so, here are five things to avoid after a motorcycle accident to prevent incriminating yourself or weakening a potential future case.
Avoid Accepting Offers from the Other Insurer
If the other party had insurance at the time of the accident, it may be their insurance's responsibility to pay for the accident if they were partially or fully at fault. California permits split fault, which means that both drivers may be, to some extent, responsible for what occurred and will be expected to pay for damages commensurate with their role in the accident.
When you receive an offer of payment from the other party's insurance, you may find it lower in value than anticipated. Be sure not to accept any offer until you have spoken with an attorney who specializes in motorcycle accidents.
Insurance companies often do their best to pay only the minimum; accepting an offer may devalue the true cost of the damages incurred during the accident. It may also decrease the potential recovery available in court.
Avoid Admitting Fault to Any Party
The time immediately after an accident is jarring, and many people report that, in retrospect, they were unable to think clearly in the hours following the event. Saying things in a self-incriminatory manner can occur quite easily, though unintentionally, during this time.
Wait, and allow your legal team to communicate on your behalf. Your attorney can help you navigate how to report what happened accurately without incriminating yourself and taking financial responsibility for the collision.
Do not apologize or admit that you were at fault for an accident, even if you believe you were. Should you accidentally admit fault, you may find recovering damages for vehicle harm or personal injury to be more difficult or impossible later. Do not admit fault to the other driver, witnesses, or friends and family.
Avoid Giving a Recorded Statement
Similarly, do not offer or agree to give a recorded statement; anything said during this recording may be used out of context in a courtroom. People who are already agitated by an accident do not often have the foresight and clarity of thought to be cautious with their words.
The other party may attempt to record your discussion, or their insurance may reach out for a statement from you. Decline to participate until your lawyer advises that you may do so or contacts these parties on your behalf.
Avoid Attempting to Coax the Other Driver into Admitting Fault
While drivers may be aware enough not to admit their own fault in a motorcycle accident, they may still attempt to coax the other party into an admission, believing that it will help their case. Avoid engaging with the other driver whenever possible.
A motorcycle accident attorney will have experience capturing the necessary information on their own without risk to your case. Engaging in conversation typically leads to increased tension leading you to attempt to defend your actions, which may incriminate you.
Avoid Documentation Neglect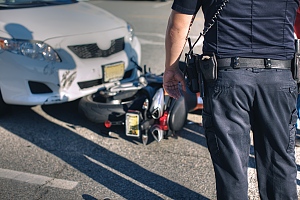 Following a motorcycle accident, the drivers' lives often become busy with medical appointments, calls with insurance companies, and evaluations of damage to the vehicles. Always keep a record of any correspondence related to these activities, and request that conversations or determinations be made in writing rather than via phone call.
Producing medical bills, mechanic estimates, police reports, and other related documentation (such as employment termination from missing work on the day of the accident) is one of the most effective means of supporting and strengthening a motorcycle accident legal case.
Attorneys can use these figures to validate the claim for the appropriate damages and prove that you are not attempting to seek financial compensation in excess of what is fair and reasonable.
Work with a California Motorcycle Accident Attorneys After a Collision
Motorcycle accidents can be frightening times, but they do not have to create financial hardship. If you have been involved in a motorcycle accident in California, be sure to work with a legal team as soon as possible after the event.
The attorneys at Lehr Law represent motorcyclists to secure the financial compensation that they deserve after an accident. Contact Lehr Law to schedule a consultation and begin building a case for remuneration.